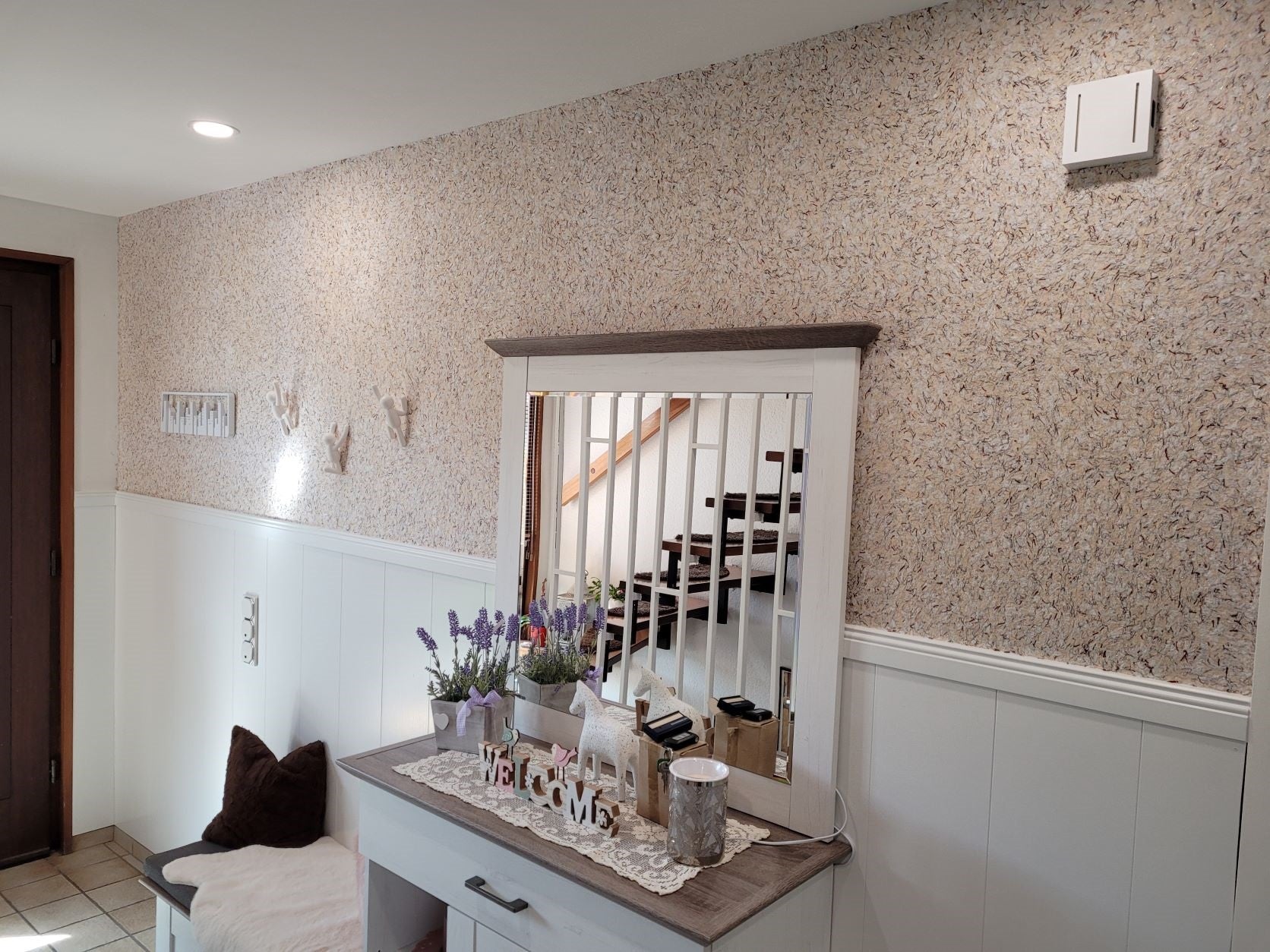 Warm - sound-absorbing - moisture-regulating - reusable
The sweater for your walls
Get started now with our affordable introductory offers!
What makes cotton plaster so special
HEAT INSULATING
Coarse and loosely structured cotton plaster keeps the heat better in your 4 walls, just like a sweater keeps the heat in your body, and can thus save you heating costs. You are welcome to test this effect with our sample cards .
moisture-regulating
Our cotton plaster absorbs moisture from the air and releases it again. This is commonly referred to as breathing the walls. You also know this effect from your sports gear, for example. This can significantly improve your living environment.
SOUND ABSORBING
The uneven and porous surfaces of many cotton plaster decors absorb sound and can thus improve the room sound. This makes our roughly structured and airy decors extremely popular and perfect for your home cinema.
Die Ausprägung der genannten Eigenschaften sind von der Struktur und Zusammensetzung der Materialien abhängig. So hat eine dünne flache Struktur einen anderen Einfluß als eine grobe luftige Struktur. Auch die Art der Verarbeitung (Kelle oder Spritzpistole) beeinflußt die Eigenschaften. Bestelle Dir daher auch immer unsere Musterkarten.

Almost unique
Reuse cotton plaster
Your cotton plaster can accompany you for a lifetime. Check out this article!
go to Article
With a flat and rough surface, 250g of material is in most
cases sufficient.
Only with very thick materials may a little more be required.
Ultimately, this also depends on the performer. We therefore always give 4m²
reach with our bags of 1 kg of material, but we also know that
the providers differ here. Therefore, always compare the weight and
not the specified ranges for the price comparison.
For substrate preparation in connection with
There are 3 rules for cotton plaster:
The ground should be level and rough.
2) The substrate should be evenly colored and match the color
be cotton plaster.
3) The substrate must not discolour
Yes. Only rooms with stagnant moisture, such as above
closed showers should not be coated with cotton plaster. The
opinion found on the Internet that cotton plaster keeps odors
we for not applicable. Otherwise
our customers would certainly have used the cotton plaster in the bathroom
complain. 😉
In principle yes, but working overhead is natural
more exhausting. We advise beginners in particular to fill larger ceilings
therefore off. A recommended alternative is spraying cotton plaster
with a hopper spray gun. Here, the finer decors should be preferred.
Like OSB panels, gypsum plasterboard is one of the strongly staining substrates.
These must be coated once with deep primer and at least twice with a suitable insulating paint with granules.
That's fine. But you should work quickly
as the old cotton plaster softens over time.
You also need more material, since the old one does not have a flat surface.
In principle yes, but we advise against it. As a result, the cotton plaster loses some of its properties and is then very difficult to remove.
sample cards
Our sample card letters offer you the opportunity to easily find your favorite item from a collection of over 70 sample cards at home. To take out and touch, of course.
I want to go to the sample cards
Trial Pack
Do you want to practice and try something instead of getting started right away? No problem! With our trial packs, you can start small and simple before you really get going. Tools and information material are of course included.
I want to go to the trial packs
Thats what our customers say
Reinhard K
Here is a photo from my living room. The gray wall is a premium decor and the yellow one is a base decor. [...]
I can definitely recommend the plasters you offer.
Anya S
here are a few pics...
[...]
We think it turned out really nice! The plaster was super easy to work with. We were beginners there, but had no difficulties at all. With your tips we were well prepared ;-)

martin m
I have already gained my experience with your cotton plaster and was again enthusiastic.
Her primer is also worth the money, I have no doubt about that. The subsoil was very challenging this time with clay building and fiberboard. But in the end there were no problems or coloring.
My next project will be easier again.
family h
We are very satisfied with the product and are already considering which room we will do next.

You can forget about wallpapering. There's no quicker way to beautify a wall. The effort is low and the result wonderful.

If you follow the instructions exactly, nothing can go wrong. Thank you for the videos.
Wir weisen Dich darauf hin, dass wir – für den Fall, dass Du mit uns einen kostenfreien und/oder kostenpflichtigen Vertrag begründest oder bereits begründet hast – Deine Daten nutzen, um Dich werblich anzusprechen. Du hast das Recht, der Verwendung Deiner Daten zu diesem Zweck jederzeit zu widersprechen, ohne dass hierfür andere als die Übermittlungskosten nach den Basistarifen entstehen. Für nähere Informationen lies bitte unsere Kunden-Transparenzerklärung.