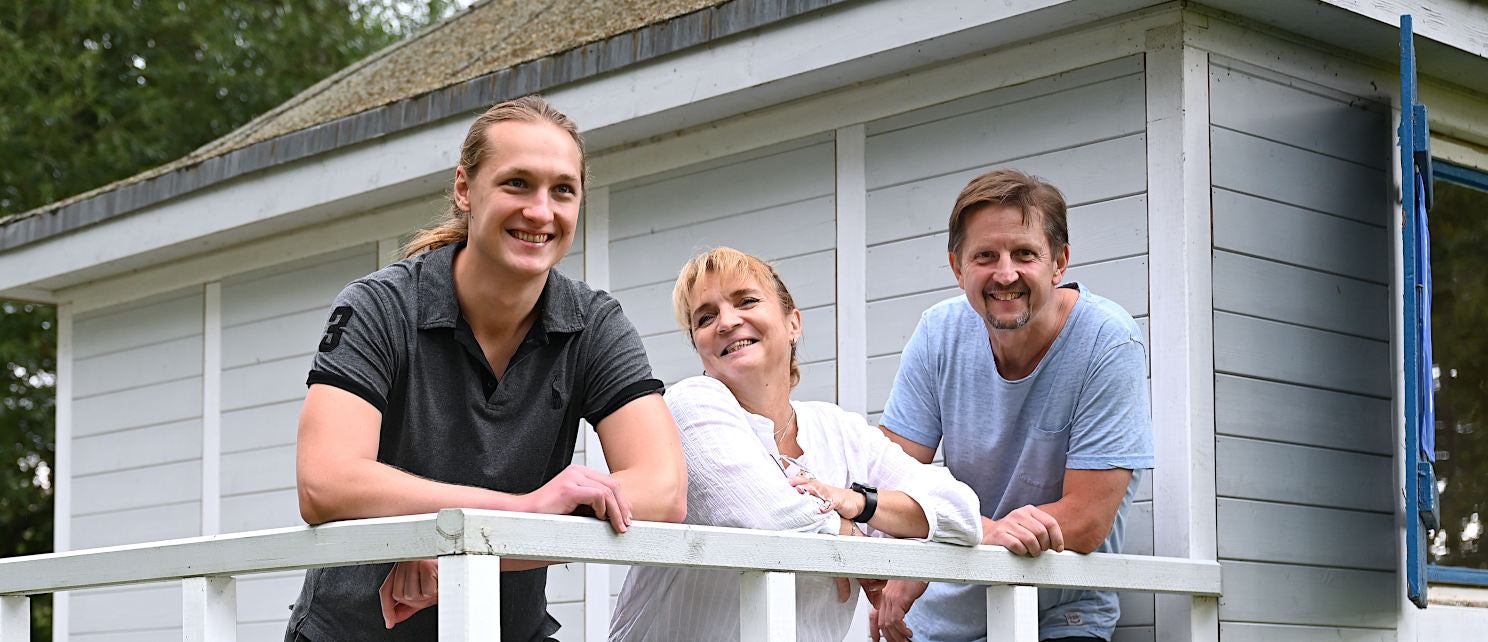 A look behind the scenes of the cotton plaster shop.
How and why do we do this?
WHO ARE WE?
We are a family business and we include, from left to right in the photo, Vincent, Dirk and Judith.
As is usual in small companies, everyone is responsible for everything, from cleaning to shipping to marketing, the tasks are done together.
How it all started with cotton plaster...
It all started around 20 years ago at an in-house exhibition in Dresden. Cotton plaster was presented there. I was immediately impressed by the properties and the look. Some time later, the entire apartment was plastered with cotton and the project was presented as a website.
A manufacturer of cotton plaster then got in touch and wanted to place advertising on this site. At that time I was already professionally familiar with the creation of websites. So I took this as an opportunity to set up my first online shop and then sold the cotton plaster from this manufacturer myself.
In 2017, this manufacturer surprisingly stopped production.
Thus, from one day to the next, all products were no longer available. What remained was a well-known shop and experience with the material. The task now was to find new manufacturers. These had to offer the quality customers are used to at comparable prices.
After initial challenges, this change worked very well and as a result led to the development of new decors that combine very good workability, an outstanding look and low prices.
How did it evolve?
Since then, sales have grown steadily. After shipping started in the small basement, new business premises soon became necessary. The cotton plaster shop is currently located on approx. 200 m² of office and storage space in the medical and commercial building on Kochstedter Kreisstraße 11 in Dessau-Roßlau.
Although we are purely an online business, our customers can meet us here in person, by appointment if possible. Our office is on the first floor on the right next to the elevator.
What are we working on right now?
The production of new processing videos and product photos continues. This takes a lot of time and will therefore take a few more weeks. However, the results are constantly updated in the shop. Check back every now and then. It's also worth it because we offer new bargains at the beginning of each month. :-)
Our commitment to the region
As a responsible company, we stand up for our region. The Dessau-Wörlitz cultural and floodplain landscape offers a
unique historical and cultural experience at the confluence of the Mulde and Elbe. We are committed to preserving the oldest German river bath. In the picture on the right is the Hugo Junkers bath house, whose name most of us associate with airplanes and gas boilers. This is also located on the deer swamp site. Not only did Hugo Junkers relax here, but there were also regular meetings with his engineers to exchange ideas.
You can find more information on the association's website: https://www.rehsumpf.net/
And how you support us in this
In addition to our personal participation in information events such as
here at the Open Monument Day 2022, as well as work assignments, 20 ct. of every bag of cotton plaster sold goes to the Rehsumpf eV association as a donation and is invested directly in the preservation of this wonderful listed facility.
By renovating your rooms with cotton plaster, you not only have more fun in your own rooms, but you have also made a contribution to the preservation of the oldest river bath in Germany.